Product Description
ISO/ANSI/DIN Standard  Short Pitch Precision Stainless Steel Hardware Transmission Motorcycle Industrial Roller Chain
 
Product Description

1. Material: Stainless Steel 304 & 316 / Alloy Carbon Steel
2. Surface Treatment: Shot peening / Zinc-plated / Nickel-plated / Dacromet-plated
3. Chain No:
35SS-1, 40SS-1, 50SS-1, 60SS-1, 80SS-1, 100SS-1, 120SS-1, 140SS-1;
35SS-2, 40SS-2, 50SS-2, 60SS-2, 80SS-2, 100SS-2, 120SS-2, 140SS-2;
35SS-3, 40SS-3, 50SS-3, 60SS-3, 80SS-3, 100SS-3, 120SS-3, 140SS-3;
4. Application: Stainless Steel Chains are used in so many industries, such as machine manufacturing, food machine, etc. Also are suitable for high and low temperature conditions.
5. Characteristic:
1. The chain can be used on the both sides of multi-axle transmission.
2. Easy installation and replacement.
3. It can obtain larger reduction ratio.
4. The roller chain has good elasticity, high strength and each hinge part has lubricating oil, so it can be stored easliy. Thus, compared with the rigid contact tooth, it has good cushioning and vibration absorbing ability.
 
Product name
Stainless Steel Roller Chain From China
Materials Available 
1. Stainless Steel: SS304, SS316, etc
2. Alloy Steel: 45Mn, 42CrMo, 20CrMo, etc
3. OEM according to your request
Surface Treatment
Shot peening, Blackening, Oxygenation, Polishing, Zinc-plated, Nickel-plated, Anodized, etc.
Characteristic
Fire Resistant, Oil Resistant, Heat Resistant
Design criterion
ISO DIN ANSI & Customer's Drawing
Size
Customer's Drawing & ISO standard 
Package
Wooden Case / Container and pallet, or made-to-order
Certificate
ISO9001: 2008 
Advantage
First quality, Best service, Competitive price, Fast delivery
Delivery Time
20 days for samples. 45 days for official order.
Detailed Photos


View more products,please click here…
 
Company Profile
| | |
| --- | --- |
| Usage: | Transmission Chain |
| Material: | Stainless steel |
| Structure: | Roller Chain |
| 80-1: | 1" |
| Size: | 50ss-1 |
| Other: | Corrosion Resistance |
Samples:

US$ 0/Meter

1 Meter(Min.Order)

|
Request Sample
Customization:

Available

|

Customized Request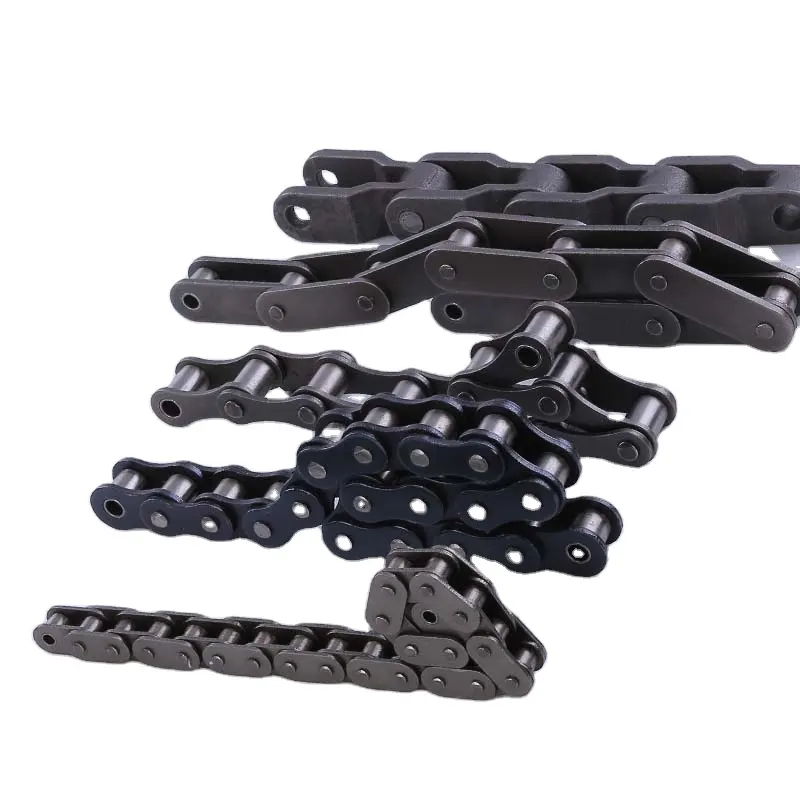 How do roller chains handle high torque loads?
Roller chains are designed to handle high torque loads effectively. Here's a detailed answer to the question:
1. Robust Construction: Roller chains are constructed using high-quality materials and precise manufacturing techniques to ensure strength and durability. They are designed to withstand the forces generated by high torque loads without deformation or failure.
2. Load Distribution: Roller chains distribute the high torque load evenly across their links and pins. This even distribution helps prevent concentrated stress points and ensures that each link carries a portion of the load, reducing the risk of chain failure.
3. Fatigue Resistance: Roller chains are designed to resist fatigue caused by repeated stress cycles. They have sufficient strength and resilience to endure the high torque loads encountered during operation without experiencing premature wear or failure.
4. Proper Lubrication: Adequate lubrication is crucial for the smooth operation and longevity of roller chains under high torque loads. Lubrication reduces friction, minimizes wear, and helps dissipate heat generated by the increased forces. Proper lubrication ensures that the chain operates efficiently and extends its lifespan.
5. Tensile Strength: Roller chains are engineered to have high tensile strength, which allows them to withstand the tension created by high torque loads. The tensile strength of the chain ensures that it can handle the pulling force exerted by the rotating sprockets without elongation or failure.
6. Sprocket Selection: The choice of sprockets also plays a significant role in handling high torque loads. Sprockets should be matched appropriately with the roller chain to ensure proper engagement and efficient power transmission. Selecting sprockets with the appropriate tooth profile, material, and design helps optimize the performance and longevity of the chain under high torque conditions.
Roller chains have been extensively used in applications that require the transmission of high torque, such as heavy machinery, industrial equipment, and automotive systems. Their robust construction, load distribution capabilities, fatigue resistance, proper lubrication, high tensile strength, and compatibility with well-designed sprockets make them reliable and efficient in handling high torque loads.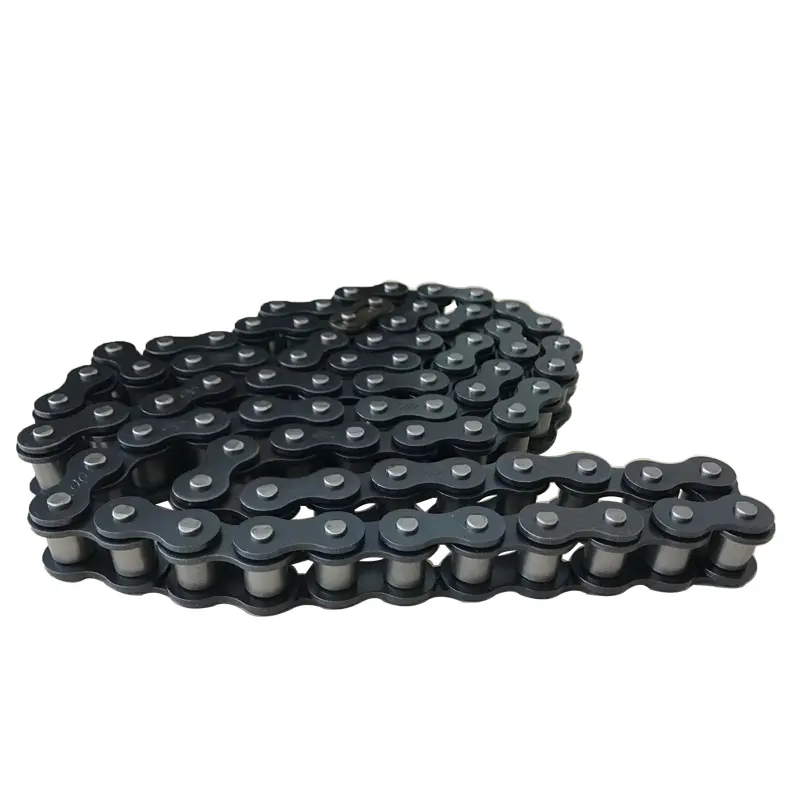 How do roller chains handle static loads?
Roller chains are primarily designed for transmitting power and handling dynamic loads, which involve motion and varying forces. However, roller chains can also handle static loads to some extent. Here's a detailed answer to the question:
1. Load Distribution: When a roller chain is subjected to static loads, the weight or force is evenly distributed across multiple rollers and pins. This helps to distribute the load more effectively and reduces stress concentrations on individual components. The load is transferred from one roller to another through the pins, ensuring a more balanced distribution.
2. Stiffness: Roller chains possess a certain degree of stiffness that enables them to resist static loads. The rigid construction of the chain, including the link plates and pins, helps maintain the integrity of the chain under static conditions. This stiffness allows the chain to support the applied load without excessive elongation or deformation.
3. Lubrication: Proper lubrication is essential for roller chains to handle static loads effectively. Lubrication helps reduce friction and wear, which can occur even under static conditions due to the weight of the load. Adequate lubrication ensures smooth movement of the chain and minimizes the risk of surface damage or increased friction during load-bearing.
4. Chain Preload: In some cases, applying a pre-load or initial tension to the roller chain can help improve its ability to handle static loads. The pre-load helps to eliminate any slack or looseness in the chain, enhancing its rigidity and reducing the potential for excessive elongation or misalignment when subjected to static forces.
While roller chains can handle static loads, it's important to note that they are primarily designed for dynamic applications involving motion. Excessive static loads or prolonged exposure to static conditions may lead to increased wear, elongation, or deformation of the chain. In scenarios where the majority of the load is static, alternative power transmission systems or load-bearing mechanisms may be more suitable.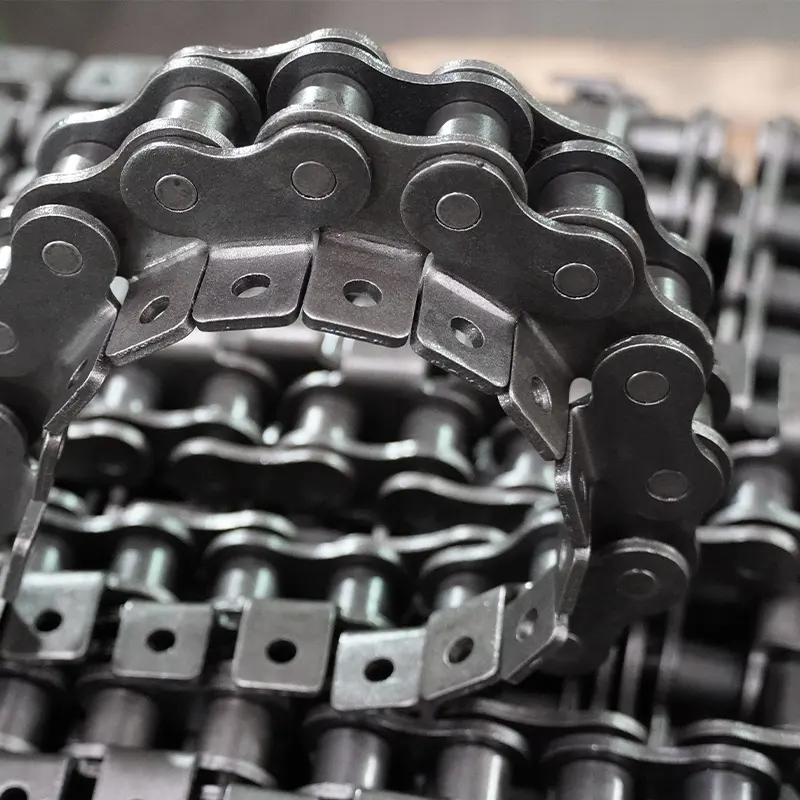 Can roller chains be repaired or must they be replaced?
When it comes to roller chains, repair options are limited, and in most cases, replacement is recommended. Here's a detailed answer to the question:
1. Limited Repair Options: Roller chains are typically not designed to be easily repaired. The individual components of the chain, such as the pins, bushings, and rollers, undergo wear and fatigue over time, making it difficult to restore the chain to its original condition through repair.
2. Safety Considerations: Roller chains play a critical role in transmitting power and ensuring the safe operation of machinery or equipment. Any repair attempt that compromises the chain's integrity or reduces its load-carrying capacity can pose safety risks. Therefore, it is generally recommended to replace worn or damaged roller chains to maintain the highest level of safety.
3. Cost-Effectiveness: In most cases, replacing a worn or damaged roller chain is more cost-effective than attempting to repair it. The cost of labor, specialized tools, and the uncertainty of the repaired chain's performance and lifespan make replacement a more viable option.
4. System Integration: Roller chains are often part of a larger system or machinery. In some cases, repairing a single chain link or component may disrupt the system's overall performance and cause compatibility issues. Replacing the chain ensures proper integration and avoids potential complications.
While repair options for roller chains are limited, regular inspection and maintenance can help identify wear or damage early on. Timely replacement of worn or damaged chains is crucial to prevent unexpected failures, reduce downtime, and maintain the efficiency and safety of the machinery or equipment.



editor by CX 2023-09-21